Since 1997, Federico has built his reputation as an entrepreneurship coach, keynote speaker, retail coach, business writer, and media influencer across the Australian business sector.
Federico's story is inspirational and testament to the fact that hard work, passion, vision, and determination is the ultimate recipe to success. His humble beginnings and success as an entrepreneur is a direct testament to his core philosophy that "you are not born an entrepreneur, you become one if you think like one".
His first business venture defied the sceptics and achieved sales of $10.0 million per year within Australia and New Zealand alone, which he built from scratch from the age of 22.
His drive and enduring passion for business has enabled him to achieve public recognition and praise within the Australian business and entrepreneurial communities. He was officially recognised and granted the 'Telstra Business State Finalist Award', 'The Orix Most Innovative Product Finalist Award', as well as being listed in 'BRW's Young Rich List' under the age of 30 in 2004.
Driven by the success of well known entrepreneurs and coaches like Richard Branson, Tony Robbins, and Guy Kawasaki, Federico connects directly with people, motivating and energising them to achieve greater things. He often draws on his personal experiences of leadership, entrepreneurial success, innovation, global trends, competitiveness, and diversity.
He has fuelled new product and brand initiatives, and successfully deployed new ways of performing fundamental business processes as the springboard to success for leading start-up designer companies within the retail and creative sectors.
As an entrepreneur coach, his high level of enthusiasm, unconventional approach, openness to share personal experiences and down to earth nature, helps create a bonding rapport with his audiences.
Federico completed his bachelor degree in engineering at RMIT university in 1996. He furthered his education in entrepreneurship at the prestigious 'Branson Centre of Entrepreneurship' in South-Africa in 2014, as well as in Neuro Linguistic Programming (NLP) in 2015.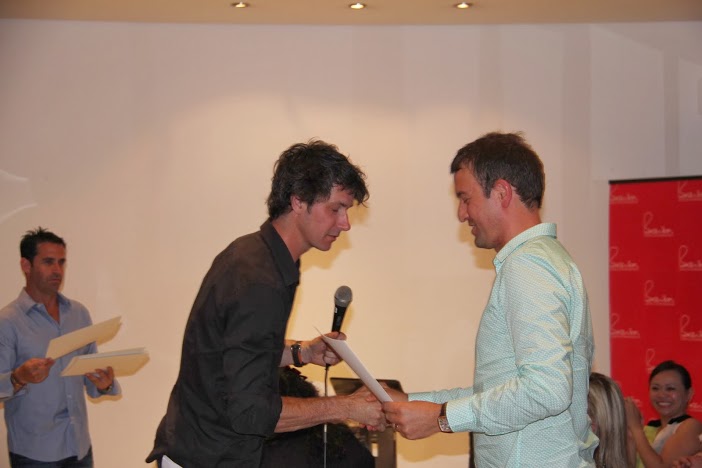 Certification at the 'Branson Centre of Entrepreneurship' in South Africa
Federico receives 'Decisionship Coach' Accreditation awarded by Serial Entrepreneur Creel Price
In 2014, Federico co-founded 'The Face of Entrepreneurs', a Melbourne-based program aimed at bringing people in business together, and infusing the adrenalin of adventure with that of entrepreneurship. For two years, his uniquely formulated events attracted enterprising individuals, entrepreneurs, intrapreneurs, socially conscious entrepreneurs, and other people seeking more fulfilment in life.
Federico has pursued an active career in writing since 2013, and co-authored his first international best seller - "Millionaire Coach". This inspiring book highlights Federico's humble beginnings; his struggles during his childhood years (see video); his ambitious endeavours and accomplishments during his professional career and adult life spanning over 20 years.
His ongoing ambitions in editorial work and unique writing style, earned him exclusive and prestigious opportunities to be a freelance contributor for Virgin.com (UK publication), Entrepreneur.com (US publication), CEO magazine, My Business magazine, Business First magazine, Silicon Valley Globe magazine (US publication), and other high profile publications.
Federico's latest venture is 'InspireTalk', a digital TV show that has attracted distinguished guests including business leaders / celebrities including George Calombaris ('Master Chef'), Janine Allis ('Boost Juice'), Michael E. Gerber ('E-myth'), Napoleon Perdis, Jack Delosa ('The Entourage'), Naomi Simson ('Shark Tank'), Jamie Durie ('Backyard Blitz'), Oliver Horn ('Swisse'), Jeremy Loeliger ('NBL'), Andrew Morello ('Yellow Brick Road'), and others.
Since first establishing this business in 2015, the show has evolved from an experimental online digital radio show, to a disruptive media / PR program that collaborates with a variety of media partners within Australia and internationally with a core mission to 'inspire, educate, and entertain the minds of audiences around the world'.
Federico lives in Melbourne with his wife and his two young children, and is a Christian. He has continued interest in Philanthropy and Social Entrepreneurship, and a strong desire to reconnect and help kids in Africa and 3rd world countries.
He enjoys playing Flamenco guitar when time permits as well as travelling to Spain and Italy to reconnect with his family and friends.